« Shows & Personalities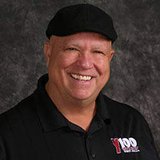 Weekly Top 30 Countdown
On Air:

Saturday, 7am - 10am

Host:

Bear
About the Show

Bear counts down the 30 hottest country songs in Green Bay & The Fox Cites every Saturday morning from 7-10!

Show Host

Bear

I grew up and graduated from high school in MN. I then served for over four years in the U.S. Air Force with most of my time as a crew chief on F-4's at RAF Alconbury England. After my discharge I decided to try radio and have been on the air since 1978.

I am married to Bridget (33 years) and we have three grown children and six grandchildren. My son Richard is a MSgt. with the Wisconsin Air National Guard.

I love Wisconsin and I love working at Y100.