« Shows & Personalities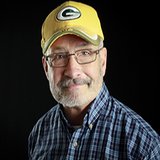 Randy Allen
On Air:

Weekdays 9am - 1am
They call me "The Legend" since I've had the pleasure to meet all of the biggest names in entertainment, from Johnny Cash, Bob Hope to Carrie Underwood and Eric Church!

When I'm not on the air, my love is the great outdoors! Share your hunting & fishing pictures with me and I'll share them with our listeners.

I have two great kids and a wonderful wife, and my life is great being part of the Y100 family!

Being out in front of the public is still a thrill, meeting long time listeners I've never had the chance to meet before!