« Shows & Personalities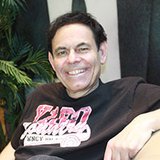 Don Siani
On Air:

Saturday, 2pm - 7pm; Sunday, 8pm - Midnight
Q: What do you like best about Wisconsin?

A: Summertime! I like to kick back in the northwoods and also enjoy scenic LaCrosse and Wausau.

Q: What was your first Country concert?

A: I'm not sure but Confederate Railroad was one of the first. They rocked!

Q: Who is your favorite Country artist?

A: I don't know if I have one in particular, but I do like Jake Owen, Eric Church, and Sugarland.

Q: How long have you been a Country DJ?

A: Over 20 years! Country listeners are the greatest!

Q: What are some of your hobbies?

A: Traveling, going to local stock car races, watching TV, goin' out, workin' out (kind of).

Q: What are some of your favorite things you've done?

A: Visiting California which was a dream come true. Visiting South Fork Ranch in Texas. Riding with Dick Trickle (America's Winningest Driver!) in one of his stock cars.

Q: What is your favorite food?

A: Steak… medium well, please!