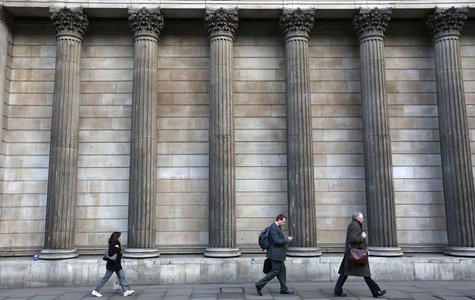 LONDON (Reuters) - The Bank of England kept interest rates at a record low on Thursday, despite signs that Britain's economic recovery is picking up more speed and that house prices are rising strongly.
The Bank's Monetary Policy Committee left its benchmark interest rate at 0.5 percent where it has sat since the depths of the financial crisis more than five years ago.
It also kept unchanged its 375 billion pound ($636 billion) stockpile of government bonds which it amassed in recent years in an attempt to get the economy moving again.
The MPC made no statement on Thursday. It is due to announce a new set of quarterly economic forecasts next Wednesday when BoE Governor Mark Carney will hold a news conference.
Britain is likely to grow faster than any other Group of Seven economy this year, and expectations are building that the BoE might raise borrowing costs sooner than it has signaled.
The pound hit its highest level against the dollar in nearly five years this week.
Bets in markets are largely on a first increase in the first quarter of 2015. The BoE hinted in February that the second quarter of next year was the most likely timeframe but since then growth data has come in stronger than expected, although inflation has fallen to a four-year low of 1.6 percent.
This week's MPC meeting was the first since unemployment fell below the 7 percent level it set last August as a threshold for considering a rate hike. In February, as unemployment fell much faster than the BoE had expected, it linked its thinking on rates to the amount of spare capacity in the economy.
Investors will be watching for the Bank's fresh assessment of how quickly slack in the economy is being run down when it releases its quarterly forecasts on Wednesday.
Adding to pressure on the Bank over interest rates is the surge in Britain house prices.
Data on Thursday provided the latest signs that the market has lost a bit of its heat recently. Nonetheless, an 8.5 percent annual rise in house prices underscored its strength.
The BoE has stressed it will take measures to control credit as a first line of defense against the risk of a housing bubble, rather than raise interest rates. The Bank's Financial Policy Committee is due to meet on June 17.
(Editing by Ruth Pitchford)