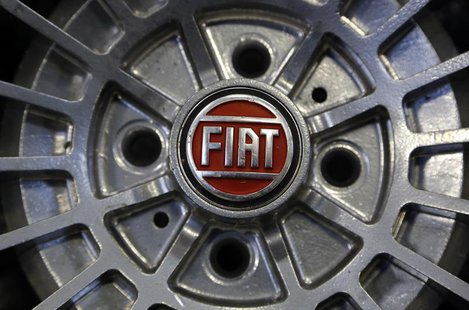 By Agnieszka Flak and Bernie Woodall
MILAN/DETROIT (Reuters) - Fiat has cut its 2014 profit forecast following a slump in Latin American sales, underscoring the task the carmaker faces as it completes a merger with U.S. arm Chrysler and shifts its center of gravity away from Italy.
Turin-based Fiat, which this month bought out Chrysler's minority investor in a $4.35 billion deal, said on Wednesday the new Fiat Chrysler Automobiles (FCA) group would have its primary listing in New York, with a secondary listing in Milan.
The holding company will be registered in the Netherlands and have its tax domicile in Britain, cementing a politically sensitive shift away from Italy, although Fiat said the decision would have no impact on jobs in Italy or elsewhere.
Five years after Fiat helped to rescue Chrysler from bankruptcy, the U.S. business has become a key profit center for the group, helping to offset a six-year European market slump.
Latin America has also become important. But Fiat said on Wednesday core earnings in the region plunged 80 percent in the final quarter of 2013, dragging group results below expectations and leading it in part to lower its expectations for this year.
"The results were disappointing and fell short of expectations. Fiat is a restructuring story. It needs time," said Gabriele Roghi, head of investment at Invest Banca.
At 1420 GMT, Fiat shares were down 5.8 percent at 7.1 euros, one of the biggest falls by a European blue-chip stock <.FTEU3>.
Fiat said it now expected a 2014 trading profit of 3.6-4.0 billion euros, down from a range of 4.7-5.2 billion euros given in October 2012 and below analysts' forecast of 4.15 billion.
The company said it would not pay a dividend on 2013 earnings to preserve cash after completing its acquisition of Chrysler to create the world's seventh-largest carmaker.
NEW DOMICILE
Fiat said it was moving the tax domicile of the merged automaker to Britain even though it said this would not affect its tax burden in the countries where it operates.
It said it was shifting the primary listing to New York to benefit from a more liquid market.
While analysts have widely welcomed the Chrysler deal, which Fiat boss Sergio Marchionne funded without a rights issue and more cheaply than anticipated, they have been more skeptical about the group's rising debt and the ability of the 61-year-old executive to turn the Fiat part of the business around.
At 9.8-10.3 billion euros, Fiat's forecast of net debt for 2014 is lower than analysts' expectations.
But the group risks having to issue more debt to fund a three-year investment plan that is due to be announced in May.
Fiat reported a fourth-quarter group trading profit of 931 million euros ($1.27 billion), compared with a restated 887 million the previous year and analysts' consensus forecast of 1.15 billion euros.
Analysts said the sudden and sharp slowdown in Latin America was the main concern. Brazil alone used to account for about one fifth of Fiat profits.
"The key question is whether this decline is now structural," Citi analysts said in a note.
Fiat's operations in Latin America were primarily hit by an end to car sales incentives in Brazil and a cooling off of local economies.
The group managed to reduce its losses in Europe, and surprised to the upside by a strong performance of its luxury brands, especially Maserati.
Chrysler's fourth-quarter net income rose 329 percent to $1.62 billion, but included a $962 million non-cash tax benefit.
(Additional reporting by Stephen Jewkes and Isla Binnie in Milan, Editing by Lisa Jucca and Mark Potter)