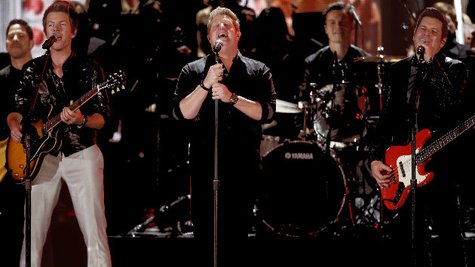 Rascal Flatts has been tearing up the country charts for 14 years now, so it's no surprise new artists like Hunter Hayes and duo Dan + Shay cite the band's sound an influence on their music. The guys in Rascal Flatts are honored to have a role in shaping the next crop of country stars.
"It always makes you feel good," says bass player Jay DeMarcus . "Any time that you're recognized for any of the work that you've done, and it's touched somebody in some way and inspired them to do something, I'm very, very, very proud of that."
Rascal Flatts lead singer Gary LeVox says a lot of their influence stems from recording timeless songs like "God Bless the Broken Road" and "What Hurts the Most."
He explains, "You think about some of these songs that people are getting on American Idol with, you know, songs of ours that they sing, or The Voice . You know, some people are still singing "Broken Road." That song, to think about, it was already 10 years old by the time we got it."
Jay chimes in with a laugh, "When we put that out in the late '70s, we never dreamed…"
Rascal Flatts just released "Rewind," the lead single from their new studio album due out later this year.
Copyright 2014 ABC News Radio