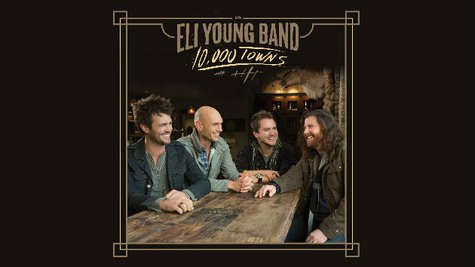 Eli Young Band releases their new album, 10,000 Towns , on March 4 featuring their latest hit, "Drunk Last Night." The guys in the band wrote about half of the project's 11 songs, but "Drunk Last Night" was one of the many songs they found from other writers.
"We listen to everyone that comes to us," explains lead singer Mike Eli . "We encourage a lot of songwriter friends of ours, send us whatever you've got. I love to listen to music, period. So, you just never know."
The band had a large pile of songs to choose from for this album, which made the finished product that much stronger. Mike adds, "After finishing this record, we really feel like it's one of the best records we've made."
"Drunk Last Night" has sold more than 600,000 downloads so far. Here's the Here's the 10,000 Towns track listing:
"Drunk Last Night"
"10,000 Towns"
"Dust"
"Angel Like You"
"Let's Do Something Tonight"
"Your Last Broken Heart"
"What Does"
"A Lot Like Love"
"Just Add Moonlight"
"Revelations"
"Prayer for the Road"
Copyright 2014 ABC News Radio