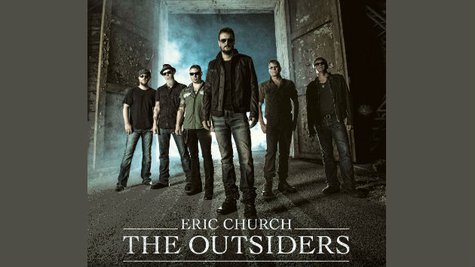 Eric Church broke through to country music's A-list with his last album, Chief , but he's not going back to that winning formula on his new release, The Outsiders , due out this week. Instead of just making Chief Part Two, Eric decided to let the songs lead him down new creative paths in the studio.
"We were at a point in our career where I understand that that we had two choices," Eric explains. "I could have continued to do what 'Drink in My Hand,' 'Springsteen,' 'Creepin'' [did]. I know how to do those things. I know how to continue the career that way. I think we made a conscious effort to challenge ourselves artistically and do something that was artistic."
After writing more than 120 songs for The Outsiders , Eric took great care in selecting and sequencing the tracks that made the final cut. The end result is a 12-song album that he says truly is greater than the sum of its parts.
Says Eric, "There's two songs on this album, that if you pull them out of the album, I like 'em. I just don't love 'em near as much as if you put 'em back in, because of the space that they give the songs in between and what I feel when I listen to the record."
That's why Eric insists fans listen to The Outsiders in its entirety once it comes out Tuesday.
"It's an album. It's start to finish," Eric says. "Shuffle is gonna aggravate me on this if people play shuffle, 'cause it's not right. It needs to be listened to as an album."
No matter how The Outsiders is received, Eric feels sure he's done his part to move the country format forward with his new music. While it's easy to blame tightened radio playlists and record label politics for the sound-alike country songs on the charts, Eric thinks it's the artists responsibility to come up with fresh and exciting music.
He says, "If you're gonna be one of those artists, a relevant artist, it's up to you to carry that artistic flag and do something with it. I think that's what we did. That's what we chose on this album. We made it that way."
The latest single from The Outsiders , "Give Me Back My Hometown," is now climbing the country chart.
Copyright 2014 ABC News Radio