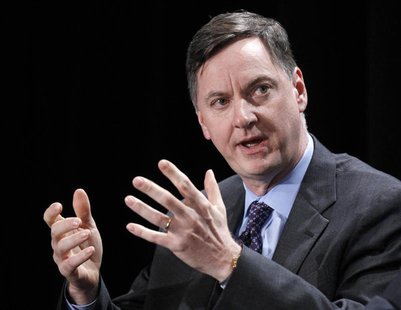 (Reuters) - The U.S. Federal Reserve has been too timid in its efforts to bring employment and inflation back up to normal levels, despite more than five years of extraordinarily super-easy policy, a top Fed official said on Wednesday.
"I would argue, if anything, the (Fed) has been less aggressive than the policy loss function calls for," Chicago Federal Reserve President Charles Evans said in remarks prepared for delivery in Washington. "The surest and quickest way to reach our objectives is to be aggressive."
The Fed is charged by the U.S. Congress with keeping prices stable and the economy at full employment.
To that end, it has kept short-term interest rates near zero for more than five years, and bought trillions of dollars of Treasuries and housing-backed securities to push down long-term borrowing costs and spur growth. But despite some progress, it is still falling short on both of its goals, Evans said.
Inflation is only just over half of the Fed's 2-percent goal, and looks likely to stay below-target for several years, he said.
Meanwhile unemployment, now at 6.7 percent, probably overstates the strength of the labor market, he said: "Generally, the evidence points to a still weak labor market."
Taken together, that scorecard suggests the Fed should keep policy very easy, he said.
"(I)n the current circumstances, accountability and optimal policy mean we should be maintaining a large degree of accommodation for some time," Evans said.
Evans, who is not a voter on Fed policy this year, is one of the more dovish Fed policymakers at Fed Chair Janet Yellen's table.
(Writing by Ann Saphir; Editing by Andrea Ricci)