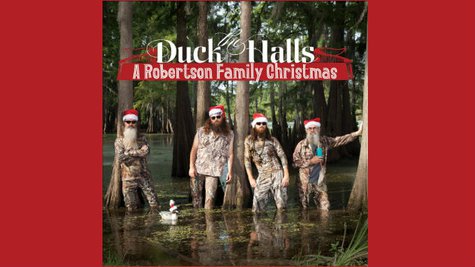 If the idea of the Robertson family from Duck Dynasty putting out a Christmas album this week called Duck the Halls seems a little off-the-wall to you, then you had the same reaction Uncle Si Robertson had when Willie Robertson first pitched the idea to the family.
Looking back on that conversation, Si recalls telling Willie "'You're talking about the whole family is going to get there and sing, and we're going to make an album and actually try to get people to pay money to hear us butcher a song? Have you lost your mind?'"
Willie wasn't so sure about doing the album at first either. The idea came from some of Willie's pals in Nashville who knew about the Robertson family's interest in music, and the rest of the family was excited to hit the studio once all the ducks were lined up. Deciding what to actually record in the studio was a big question mark for the family, though.
Willie explains, "I didn't know if it would just be a big joke, and it would be funny, which was fine with me, or it actually may be halfway decent. And man, once we got into doing it, it was amazing."
Producer Buddy Cannon -- the man behind hits from Kenny Chesney and Reba -- helped the Robertsons put the album together and recruited stars like George Strait , Luke Bryan , Alison Krauss and Josh Turner to make guest appearances, too.
"Working with him and just watching how he worked and putting music together and making it sound great and it turned out pretty special," Willie says of Buddy Cannon. "By the end, I was like, 'Wow, we did pretty good.'"
Duck the Halls: A Robertson Family Christmas features the original songs "Ragin' Cajun Redneck Christmas," "Hairy Christmas" and "Camouflage and Christmas Lights" as well as the family's unique twists on "Away in the Manger" and "Silent Night." Uncle Si even got in the act to deliver a spoken word performance of "You're a Mean One, Mr. Grinch."
Copyright 2013 ABC News Radio