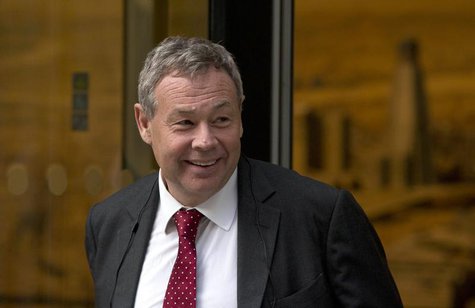 By Clara Ferreira-Marques and Clare Hutchison
LONDON (Reuters) - The battle by one of London's top bankers to overturn a market abuse fine neared the end on Thursday, with his lawyers saying his aims were perfectly proper as they wrapped up a case that has highlighted banks' working practices and tested Britain's new financial regulator.
Ian Hannam has been a high-profile name in London financial circles for more than a decade. Once a so-called rainmaker at investment bank JPMorgan , he brought in clients, money and respect thanks to his bulging contact book.
But the former soldier, dubbed "king of mining" because of his weight in the resources sector, fell foul of the regulator and was fined 450,000 pounds ($730,000) in 2012 over two emails sent on behalf of a client which the regulator considered contained "inside", or potentially market-moving, information.
Hannam quit his job as chairman of capital markets at JPMorgan last year to fight the penalty - one of the highest levied in Britain against an individual. He is seeking to restore his reputation with an appeal that began in July.
Lawyers on both sides presented concluding arguments on Thursday, before the judge-led Upper Tribunal retired to consider a decision, a process which could take months.
The Financial Conduct Authority, which replaced the Financial Services Authority this year, has not questioned Hannam's honesty, but has accused him of having a "relaxed and improper" attitude, and spoke on Thursday of "casual" disclosure beyond that allowed and necessary to do his job.
"While it is not suggested that Mr Hannam intended to commit market abuse, his behavior cannot be described as an entirely innocent breach," the FCA said in its written closing statement.
"The fact that a person is honest does not mean he automatically escapes serious criticism and a significant penalty," it said.
Hannam, though, has denied the emails contained inside information and argues that even if they did, the disclosures were made in the course of his job as a financial adviser.
In a written closing statement, his lawyers added the recipient of the information - a Kurdish minister and oil industry veteran - "understood his responsibilities in relation to potentially sensitive information".
OPENING THE FLOODGATES
Hannam was accused in 2012 by the then FSA of sending two emails in 2008 on behalf of a client, Heritage Oil , which included what the regulator considers "inside" information - on a potential takeover and on a potential oil discovery.
No-one traded on the information in Hannam's emails and the regulator did not remove his "fit and proper" status, required for working in London's financial sector.
But the regulator, which has sought to make an example of a banking heavyweight, argued on Thursday there should have been a clear need to disclose, as well as clarity that the recipient of the messages, in this case Kurdish minister Ashti Hawrami, was aware of the need for confidentiality.
Lawyers for Hannam, who was disciplined by JPMorgan in 2009, around the time the FSA began its investigation, have consistently argued he was doing his job in attempting to secure a deal for his client, Heritage.
"Mr Hannam's objectives in sending the email - to galvanize the minister's interest in a deal with Heritage and to create a window of opportunity in which to act - were perfectly proper ones," they said in the closing statement.
But partly due to Hannam's candid admissions, that argument has fuelled debate over what it is legitimate for a banker to do and say, and whether even a partial truth is inside information.
"I either made it up or I was putting a spin on it to get a meeting (with the minister)," Hannam told the tribunal in July of takeover talks revealed to the minister in one of the emails.
But acting for the client, the FCA argued, is not an excuse.
"It opens the floodgates to the disclosure of insider information," Richard Boulton, leading lawyer acting for the FCA, told the tribunal on Thursday.
Hannam's appeal is a high-profile test for the newly minted FCA's tactic of targeting big names to fight market abuse, following the strategy of U.S. watchdogs.
Rebuilding his reputation, meanwhile, is critical for Hannam, who is building up a gold venture in Afghanistan and an advisory firm Strand Partners, which includes some of the JP Morgan team who were among the most influential in the sector.
(Reporting by Clara Ferreira-Marques; Editing by Erica Billingham and David Evans)