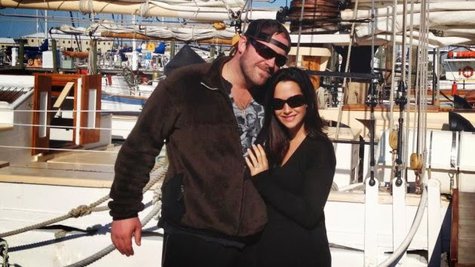 If you see Lee Brice on the road this summer, make sure and look for that new, black wedding band he's wearing on his left hand. Lee tied the knot with his longtime love, Sarah, last month in Missouri, and he had to get that big ring specially made to fit what he calls his "'fat, big hands."
The ring issue started when he and Sarah went shopping for rings earlier this year. He says, "They had these kinds of bands and stuff, and I was like, 'That's going to look so puny on my hand.'"
Lee loved that one black ring in particular, but the jeweler couldn't order it in a wider size. That's when Lee came up with a brilliant plan.
Says Lee, "I asked him, 'Can you just put two together?' So, he just put two of 'em together to make it wide enough for me."
While Lee isn't quite sure what that black ring is made of, he has been assured it's a very durable material.
"They said it would just be tough and rough, 'cause I beat stuff up," Lee says. "So, the ring is really cool."
Having that ring on his finger is also a big relief for Lee. He and Sarah have been together for years and even have a three-year old son together named Takoda . Lee is happy about their next steps as a family together.
He says, "Before, not being married, it felt like it was a little bit, just wasn't right yet. It wasn't quite started right yet. So, it just felt great to me to be able to say, 'Hey, here we are. We're married, and we're a family.'"
Go to LeeBrice.com to see where the family man is playing next.
Copyright 2013 ABC News Radio