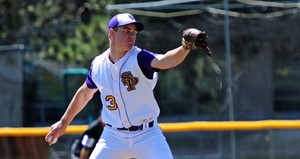 APPLETON, WI (WTAQ) - The tables were turned on the University of Wisconsin-Stevens Point.
The Pointers are 9-2 in the ongoing NCAA Division III baseball tournament, rallying from behind five times - but top-seeded Linfield rallied to come from behind Sunday.
The Wildcats trailed Stevens Point 3-0 going into the bottom of the 7th inning, but then scored twice in that frame and 3 more times in the bottom of the 8th to move on in the winners' bracket of the double-elimination tournament.
The Pointers play at noon Monday against Southern Maine in an elimination game.
Freshman Ben Messenger had Linfield blanked through six innings, but he was knocked out in the Wildcat rally. Relief star Tyler Flood came on to take the loss.