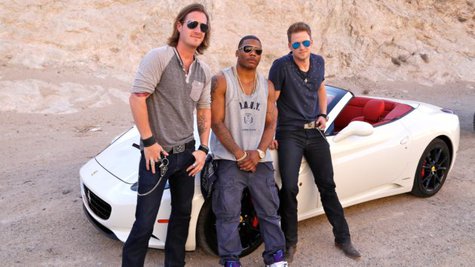 Florida Georgia Line 's hit single "Cruise" is now crossing over to the pop world thanks to a remix with rapper Nelly . So, how did they get this unique pairing come about? The country duo's Brian Kelley tells ABC News Radio it was actually Nelly who got the ball rolling.
Brian says, "When we heard that he was interested and that would have been an option, we freaked out and jumped at it. I don't think there could have been anyone better for that song. It just made sense."
Brian and his duo partner, Tyler Hubbard , love how Nelly sounds rapping on the track, too.
"It's a very special song, and to have him a part of it takes it to another level for sure," Brian says.
"Cruise" earned its initial pop cred when Taylor Swift gave a ringing endorsement of the song last year on Twitter. She mentioned her love for the song again recently in an interview with Billboard and even brought Florida Georgia Line out on her RED tour this year.
Says Brian, "We love her and what she's doing and very thankful for her having us out on tour and being so good to us."
Florida Georgia Line opens for Taylor Swift on Wednesday night in San Antonio, Texas, before playing a sold-out headlining show Thursday at the House of Blues in Houston.
Copyright 2013 ABC News Radio