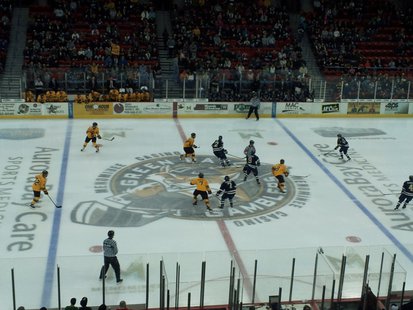 The United States Hockey League conducted phase 1 of it's annual draft on Monday. The first phase is to select players born in 1997 who eventually may join the Tier 1 developmental league. Green Bay gave up their first and second round picks because they signed forwards Brent Gates Jr. and Aaron O'Neil to USHL tenders earlier. In the third round, the 40th overall choice, Green Bay selected defenseman Adam Parsells from Wausau West high school. In round four, forward Ryan Smith of Hardy, Virginia was chose. Forward Sam Miletic of Cranbrook, Michigan was taken in the fifth round. In the sixth, Green Bay drafted Liam Darcy, a defender from Berwick Academy in Maine. Kip Hoffman, a forward from Chicago Mission was selected in the 7th round and the final choice was forward Peter Tufto, a forward from St. Thomas Academy in Minnesota.
Two sophomores from Green Bay's Notre Dame Academy were drafted. Tony Stillwell was taken in the second round, 19th overall, by the Sioux City Musketeers and Sam McCormick was a seventh round pick of the Youngstown Phantoms.
The second phase of the draft is Tuesday night. Teams will draft until each roster has 45 players to bring to training camps in the summer.