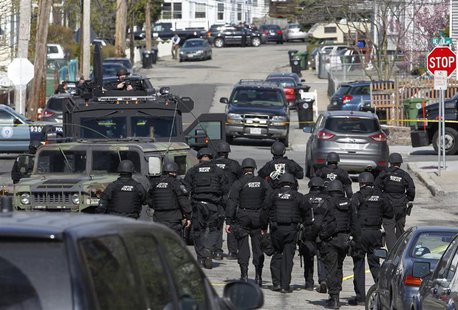 BOSTON - (WKZO) -- According to reports out of the The Boston Police Department, three additional suspects have been taken in to custody regarding the Marathon bombing investigation.
Police say "details would follow" and a press conference held later today is likely. Check back to WKZO for updates on this story as well as the LIVE stream of any press conference with further information.
(Reuters) - Three additional suspects have been taken into custody in the investigation of last month's bombings at the Boston Marathon, the Boston Police Department said in its official Twitter feed on Wednesday.
A police spokeswoman, Katherine Shea, said by telephone that she had no further details to provide.
"It's happening right now," Shea said.
Investigators had previously identified two suspects, ethnic Chechen brothers they said placed pressure-cooker bombs at the race's finish line on April 15.
One, Dzhokhar Tsarnaev, 19, is being held in a prison medical center after being formally charged with crimes that carry the death penalty. His older brother, Tamerlan Tsarnaev, 26, died in a gunfight with police three days after the bombing that killed three people and injured 264 others.
Tamerlan's body has still not been claimed, a spokesman for the state's chief medical examiner said.
"We still have not been contacted by the family," said the spokesman, Terrel Harris.
The parents of the Tsarnaev brothers have said in interviews in the North Caucasus region of Russia that they do not believe their sons were responsible for the bombs.
(Reporting by Scott Malone, Svea Herbst-Bayliss, Tim McLaughlin, Ross Kerber and Aaron Pressman; Editing by Gerald E. McCormick and Grant McCool)
Streaming video by Ustream