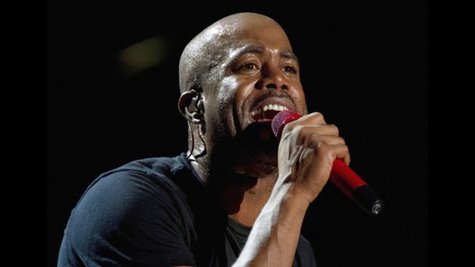 Darius Rucker is climbing the country charts fast with his latest single, "Wagon Wheel," a cover of the Old Crow Medicine show song that has become a honky tonk and frat house anthem in the past few years. Darius's version is selling about 75,000 downloads a week, and he's getting an awesome reaction to the song in concert.
Darius tells ABC News Radio, "It's really great to watch the people who are fresh out of college who know it just really freak out and have a great time and try to rush to the stage as fast as they can pushing through people."
As popular as "Wagon Wheel" has become, Darius's version is introducing it to a lot of people for the first time.
"The people that don't know it just realize it's such a great country tune," Darius says of his concert crowds. "It's so pure and so real. It's awesome to watch people, by the end of it, everybody's singing it. It's that catchy. It's that kind of tune."
Though he's happy to hear "Wagon Wheel" on country radio, Darius loves just about everything else getting played these days as well.
He says, "I listen to so much country radio, and it's so rare that I turn the channel 'cause there's so much good stuff coming on."
Darius is a big fan of Hunter Hayes ' music, and Lady Antebellum 's latest hit struck a big chord with him too.
Darius says of "Downtown," " I can't get enough of it. You know, I don't buy things on iTunes, and after about the fifth time of hearing that, I said, 'I gotta buy that song!'"
Darius Rucker's fans will be picking up copies of his third country album, True Believers , when it lands in stores May 21.
Copyright 2013 ABC News Radio