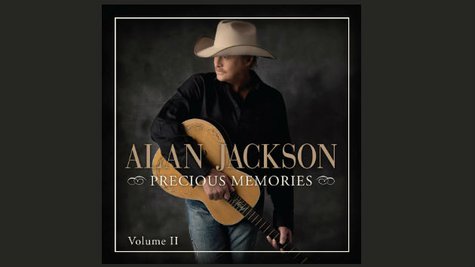 Alan Jackson builds on his 2006 gospel album, Precious Memories , with the release of a new album of traditional hymns, Precious Memories Volume II , on Tuesday. He recorded the first album at the request of his mother, Ruth , and it became a big fan favorite. Those fans always asked Alan about releasing another hymns album, so he and his wife, Denise , set to work choosing the songs to record a few months back.
Alan says, "We just kind of took it where we left off with the last one with all these songs we had, and tried to figure out a few more that would work."
A lot of fans also pointed out that Alan didn't actually include the hymn "Precious Memories" on the first Precious Memories album, but he says, "The truth is, we didn't really sing that song in the Baptist Church. I don't think it was in the hymnal. I don't know why, but I love the song."
Alan finally included "Precious Memories" on Precious Memories Volume II , and he adds,"Now it made sense to do it, I guess. Kind of backwards. But it's a cool cut on there now. I like it."
Here's the Precious Memories Volume II track listing:
"Amazing Grace"
"He Lives"
"Just As I Am"
"Love Lifted Me"
"O How I Love Jesus"
"Only Trust Him"
"There Is Power in the Blood"
"Precious Memories"
"Sweet Hour of Prayer"
"When the Roll Is Called Up Yonder"
"Wherever He Leads I'll Go"
Copyright 2013 ABC News Radio