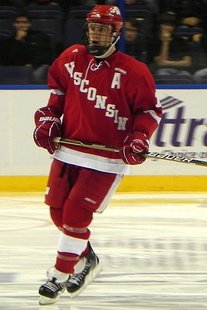 ST. PAUL, MN (WTAQ) - The hottest team in college hockey started its season winning just one of its first 10 games.
The Wisconsin Badgers continued their impressive turnaround with a 3-2 win over Colorado College Saturday to take the Broadmoor Trophy plus the WCHA's automatic position in the NCAA Tournament.
Tyler Barnes, Sean Little and freshman Nic Kerdiles scored goals as the Badgers won their 6th game in a row.
Kerdiles' second-period score gave Wisconsin the insurance goal it needed and a 3-1 lead at the time.
Joel Rumpel had 19 saves for Wisconsin while outshot Colorado State 33-21 while winning the Final Five Tournament. Kerdiles was named the tournament MVP.