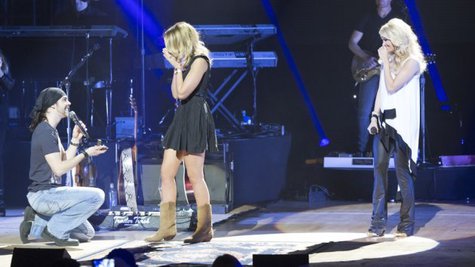 Carrie Underwood shared a lot of love with her fans in the U.K. and Ireland this past weekend and even facilitated a marriage proposal on stage in Belfast. During her sold out show at the city's Waterfront Hall, Carrie invited a couple on stage and the guy proposed to his girlfriend as Carrie and the crowd looked on. The audience gave a thunderous round of applause when she said yes.
Carrie also took time to see the sights in London including the London Eye, the giant Ferris wheel on the River Thames. Carrie posted a picture of Big Ben and Parliament taken from the top of the Eye before giving the closing performance at the C2C: Country to Country festival at the O2 arena Sunday night.
Carrie visited the Guinness Storehouse in Dublin, Ireland before her show there as well. She resumes her Blown Away tour Thursday night in Richmond, VA.
Copyright 2013 ABC News Radio