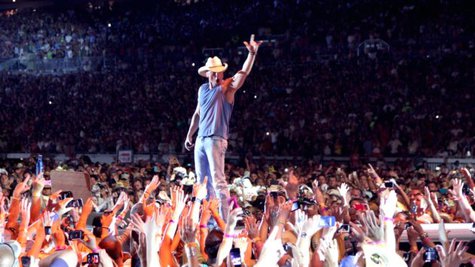 Kenny Chesney launched his No Shoes Nation tour Saturday night playing for nearly 48,000 fans in Tampa, FL. The two-plus hours show took place at Raymond James Stadium and featured hits like "Everybody Wants to Go to Heaven," "Anything But Mine" and "Out Last Night." Opener Kacey Musgraves also joined Kenny on stage for a duet of "Come Over."
Speaking of the set list, Kenny says, "We brought back some songs we've not done in a while, like 'How Forever Feels,' stripped things back a bit for 'You & Tequila' and even pulled out one no one in the band saw coming with 'Old Blue Chair.'"
Kenny also had Eric Church and Eli Young Band on the bill along with Kacey.
"I think this is one of the best packages we've had. It's very progressive," Kenny says of the lineup. "I think it's going to be an incredible summer."
For a complete list of No Shoes Nation tour dates, go to KennyChesney.com .
Copyright 2013 ABC News Radio