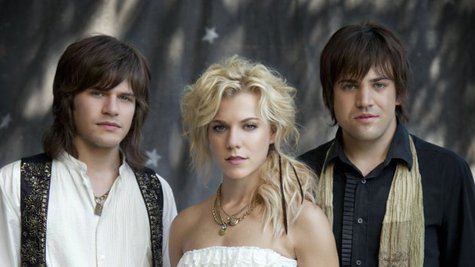 The Band Perry has been on the road opening for Brad Paisley and Rascal Flatts lately, but they're laying the groundwork to step out for a headlining tour of their own in 2014. That may seem a ways off, but it takes awhile to get all the ducks in a row to launch a tour this big.
The Band Perry's Kimberly Perry tells ABC News Radio, "We've already started doing stage sketches. It's amazing how much planning you have to do. You know what I mean? The calendar's already getting full."
That headlining show will include a lot of songs from The Band Perry's sophomore album, Pioneer , due out April 2. The lead single from that project, the #1 hit "Better Dig Two," has already become the high point of the sibling trio's live shows.
Says Kimberly, "We are closing our set right now with 'Better Dig Two,' which is kind of a bold move for us. Usually we've closed with 'You Lie,' which was a hit for us a while back."
The fans in the crowd are creating their own choreography to "Better Dig Two" as well.
"They stomp their feet and they throw up, like, the peace sign. The number two," Kimberly says. "It's kind of like this cool moment that we share with the crowd."
The Band Perry is now climbing up the country charts with the new single from Pioneer. It's called "DONE."
Copyright 2013 ABC News Radio