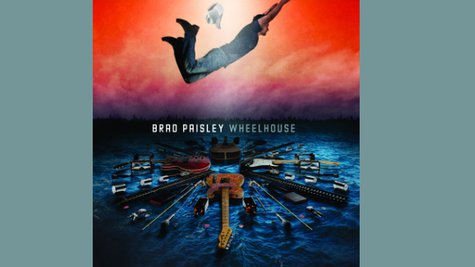 Brad Paisley is flying without a net on his new album, Wheelhouse , due out April 9. With every other album, Brad has always set up parameters and been very clear on what he would or wouldn't do. That all went out the window this time around as Brad experimented with new sounds and even brought in LL Cool J to rap on the song "Accidental Racist."
"There were no walls respected," Brad says. "If I thought the addition of a rap artist would take my point to the next level in a composition, that's what we did."
He adds, "If I felt like taking steel guitar and making it sound like a hip-hop loop would absolutely sort of bring something to life and make it unique and feel like you want someone to feel, then that's what we did."
Brad first hit the scene with his 1999 debut project, Who Needs Pictures , as an artist steeped in traditional country music. So, how does that square will all of the experimentation he's doing now?
Brad admits, "If the Brad Paisley that cut Who Needs Pictures could hear the Brad Paisley that cut Wheelhouse , he would be pretty shocked, and he would wonder what journey he had been on to get him to the point to make this album."
No matter what the young Brad might think of Wheelhouse , the fans seem to love it so far. The first single, "Southern Comfort Zone," recently hit #1 at country radio, and the follow-up, "Beat This Summer," is starting a swift climb up the chart.
Copyright 2013 ABC News Radio