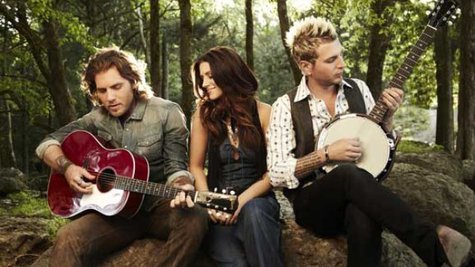 Tom Gossin of Gloriana will be honest with you and admit he doesn't remember that much about his recent bachelor party weekend in his longtime hometown of Wilmington, NC.
He tells ABC News Radio, "I remember going there. I remember coming back. I remember it being really fun."
Tom and his 10 guy friends consumed plenty of beer during their weekend by the sea, but Tom's brother and band mate Mike Gossin thinks lack of sleep is to blame for his brother's memory loss. Gloriana had a show in Las Vegas the night before their party weekend, so the Gossins and their friend and bass player Zack took the red-eye straight from Sin City to Wilmington.
Mike gives a recap of that trip: "Landed in Wilmington. Went right to the house, unpacked. Went out to this boat. Partied out on the boat."
Of course, music played a big part in Tom's bachelor party weekend. The first night, the guys took over a local bar where the Gossins used to play. Says Mike, "We all just went in and jammed and had a good time. A lot of local musicians. All of our old friends and stuff like that. Just whoever wanted to, just get up onstage and play."
Tom admits there are some details they're intentionally leaving out about the weekend, but he wants his fiancée, Jamie Moffett , to know there were no strippers involved at any point. He and his pals just had a lot of fun reconnecting and enjoying the beach.
"I mean, you only have one bachelor party in your life, hopefully," Tom says before wondering aloud, "If you get divorced, you can't have another bachelor party, can you?"
In addition to getting ready for Tom's wedding, Gloriana is also writing songs for their next studio album. They've got a show in Chicago Friday night as well.
Copyright 2013 ABC News Radio