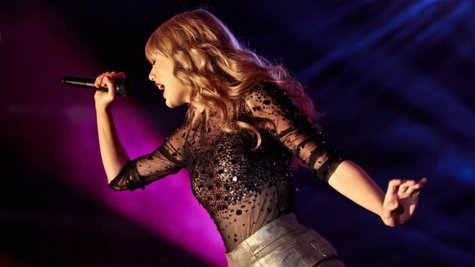 If you've caught Taylor Swift 's RED tour or seen some of her recently televised performances, you know she's gotten a bit more edgy with her production elements and wardrobe choices. The fairytale princess look she rocked in her teens has given way to short shorts and a few revealing red carpet looks too. Her style evolution is just part of growing up though.
Taylor says, "I'm 23, and I'm just trying to kind of live my best version of being 23, and to me that is expanding your horizons, challenging yourself musically, thinking outside the box for performances in ways you haven't before."
Taylor has been famous since she was 16 years old, so she did a lot of growing up in the public eye. Unlike other teen stars, Taylor managed to stay away from drugs, alcohol and all the other things that claim a lot of young, famous lives.
Taylor looks back on her teenage years saying, "I got a lot of questions early on of like, 'Are you gonna grow up too fast? Are you gonna be a train wreck? What's gonna happen?' And what I kind of gathered from all that is that it's really important to grow up as you are the age that you are."
You can catch a peek at Taylor's RED tour in the video for her latest single, "Red."
Copyright 2013 ABC News Radio