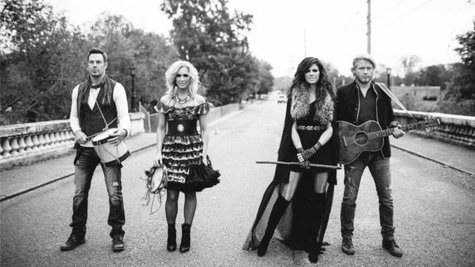 Little Big Town 's album Tornado turned out to be one of country's biggest-selling albums in the past few months, and now they're taking that new music on the road with the Tornado tour launching Thursday night in Murray, KY. While they got a chance to sing some of the new music on the road with Rascal Flatts last year, this trek offers Little Big Town the chance to perform every song on Tornado if they so choose.
Little Big Town's Kimberly Schlapman tells ABC News Radio, "I don't think we've ever been as excited as we are about getting on tour because of that, 'cause there are a lot of fans who have bought this record."
Tornado ended up spending five weeks at #1 on Billboard 's Country Albums chart late last year, and Kimberly sees this tour as a chance to thank their fans for the support.
"It's not a great economic time in our country, and people, when they fork out money for a record, that's really special," Kimberly explains. "So, the fact that a lot of people have done that, we're really appreciative and we are going to put our hearts and souls into this tour, and it's gonna be fun."
Country newcomer Kacey Musgraves is also on the Tornado tour, and it turns out she's just as big a fan of Little Big Town as the fans in the audience.
Kacey tells ABC News Radio, "They are the sweetest people in the industry that I've probably ever met. They are more deserving and hardworking than most people ever will be."
Little Big Town's latest hits "Pontoon" and "Tornado" featuring a funkier sound than most other songs on country radio these days, and Kacey thinks her straightforward songs like "Merry Go Round" will fit in nicely with Little Big Town's catalog. She's also excited to showcase her music to a lot of first-time listeners in quite a few historic, intimate theaters on the trek.
Says Kacey, "I like rockin', like, rowdy shows too, but that's my favorite environment."
Check out LittleBigTown.com for a full list of tour dates.
Copyright 2013 ABC News Radio