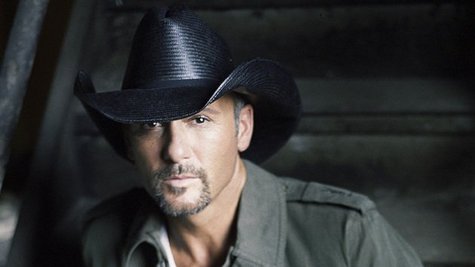 Tim McGraw 's latest hit, "One of Those Nights," is all about making the memories that last a lifetime. The funny thing is, most of the time you don't realize you're making those memories until a few years have passed.
Tim tells ABC News Radio, "You look back at your life and the moments that you remember are usually smaller moments. Like, moments in time that you don't think about at all."
While Tim remembers the details about big moments like winning Entertainer of the Year at the CMA Awards or scoring his first #1 hit, he still vividly recalls a small exchange with his high school basketball coach that affects him to this day.
Tim was only an 8th grader when he tried out for the varsity basketball team, which he admits was "sort of ambitious." Before the results were posted, the team's Coach Butler took Tim aside at recess and told him he hadn't made the team.
Tim explains, "He said, 'There were a couple of older kids that this was their last shot at playing.' He said, "You would've made the team, and I want you to know that you're the kind of guy that every coach would love to have on their team, but you're gonna be on there. Don't worry about it.'"
That vote of confidence from the coach had a big impact on Tim as he went on to play on the varsity team.
"I didn't think it was a big deal then 'cause I didn't halfway expect it," Tim explains, "but he just sort of gave me a confidence in telling me that, don't worry, I'd be on the team from here on out, and that instantly made me a better ball player."
"One of Those Nights" is the lead single from Tim's new album, Two Lanes of Freedom , hitting stores Tuesday, February 5. Look for Tim to kick off his media blitz in support of the album Friday live from the Super Bowl in New Orleans on ABC's Good Morning America . He follows that up with appearances on PBS' Austin City Limits and CBS Sunday Morning over the weekend.
Tim is also set to perform on The Ellen DeGeneres Show on February 5 with performances on NBC's The Tonight Show with Jay Leno on February 6 and ABC's Jimmy Kimmel Live! February 7. He'll wrap up the TV appearances with a stop by Chelsea Lately on E! coming up February 11.
Copyright 2013 ABC News Radio