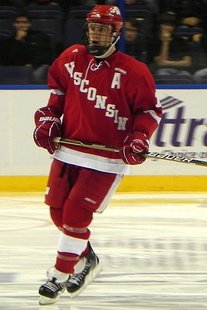 MADISON, WI (WTAQ) - The hottest team in the WCHA tripped up the coldest Saturday when the Wisconsin men's hockey team completed a sweep of Alaska-Anchorage, 2-1.
The Badgers have lost just once in their last 13 games, while the Seawolves have won just once in their last 12.
Both Wisconsin goals and the single Alaska goal came in a busy second period. Tyler Barnes and Jefferson Dahl gave goalie Landon Peterson all the scoring he would need.
Wisconsin's record is now 11-9-5, including 8-5-5 in conference play.