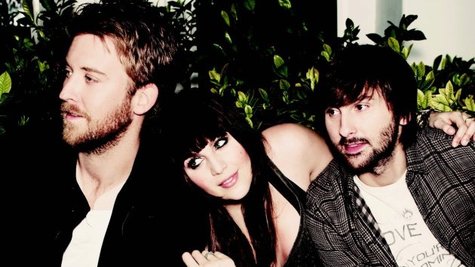 Lady Antebellum 's Hillary Scott will welcome her first child in July. She and husband Chris Tyrell found out about their impending arrival the day before Thanksgiving, and they immediately started sharing the good news with their family and friends. Some people expecting a child wait until the first trimester is over to make sure the baby is OK, but Hillary decided to forego that waiting period.
"A lot of people have different opinions on how they want to tell their family and their friends, and in this case, the world," Hillary says. "You know, we really were comfortable with everyone sharing in our joy very, very early."
She adds, "We really decided we have faith that this baby is gonna be healthy and beautiful and perfect, and so let's just kind of let everybody in on our excitement."
Though Hillary's baby is doing well, her band mate Charles Kelley thought her little bundle of joy looked like an alien in the ultrasound photo.
Hillary says with a laugh, "At first, he was like, 'Which one is the baby?'"
The baby has a high heart rate of 158, which is healthy at this point. Charles and Lady A's Dave Haywood are already planning ways to record the fetus's heartbeat for us on their next album, due this spring.
Copyright 2013 ABC News Radio