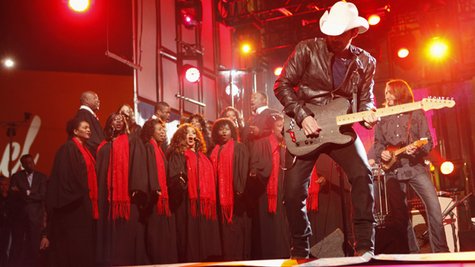 Brad Paisley says he's thinking of calling his new album Wheelhouse . Brad made the announcement Wednesday night during an appearance on ABC's Jimmy Kimmel Live! . Kimmel announced that the new album will be released on April 9.
By declaring, "I'm thinking about calling it Wheelhouse ," it might seem that Brad isn't 100 percent sure about the title, but his explanation of the meaning behind it sounds like it's a lock.
Brad told Kimmel, "It's all about leaving your comfort zone this album...it's like, 'What's in my wheelhouse?' You know, the baseball expression, sort of what's in your strike zone...where you're comfortable. And, we've really tried to go out on a limb with this record and...see how far we could stretch certain things."
Before Brad revealed the title, Kimmel jokingly suggested that he name the album Thriller or Thriller 2 , so it would be a "huge multi-platinum seller right off the bat." Brad said that was "a great idea."
Brad also revealed that he has about a month left of recording for the new album, which is being produced at home on his farm in a recording studio separate from the main house. Brad admitted that "it sort of feels wrong" to be recording an album at home. When asked why, Brad replied, "I guess it's because your family is up at the house, and you're down there working, and I have these late hours."
Paisley also participated in a funny video bit to debut a new fake theme song for the reality series Here Comes Honey Boo Boo . Brad's "The Ballad of Honey Boo Boo" opens with the line: "In the hills of Georgia, at a modest home, lives a sugared-up beauty queen garden gnome." Brad goes on to describe the young reality star as "an American hero right down to the core, she eats her meals right off the floor."
Brad also briefly discussed his experiences traveling the world to shoot the video for the single "Southern Comfort Zone," which he performed Wednesday night.
Copyright 2013 ABC News Radio