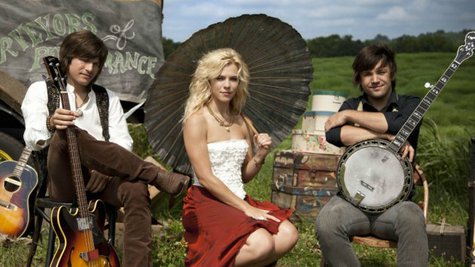 After The Band Perry took the music world by storm with their breakthrough hit, "If I Die Young," the sibling trio knew they had to launch their sophomore album with a really big single. They're latest #1 hit "Better Dig Two" definitely fits that bill. The Band Perry debuted the song on last November's CMA Awards and immediately after the performance their fans started downloading the song in droves.
The group hit a few CMA after-parties following the show, and lead singer Kimberly Perry says, "We were watching the charts and you could just see 'Better Dig Two' climbing, climbing, climbing, and then finally hit Number One on iTunes before we went to bed."
Kimberly's brother and band mate Neil Perry kept track of "Better Dig Two" trending on Twitter that same night. He says, "That was pretty cool seeing how people were taking the song instantly and really relating to it."
Now that "Better Dig Two" has hit #1 at country radio, Kimberly, Neil and their brother Reid Perry are excited to launch the full-length sophomore album, Pioneer , on April 2.
"It was absolutely kind of a validating thing to say 'Alright here we go, this is off and running,'" Kimberly says of their latest success, "and we can't just wait for you guys to hear the rest of the record."
The second single from, Pioneer , is called "DONE.," and it hit the airwaves Monday.
Copyright 2013 ABC News Radio