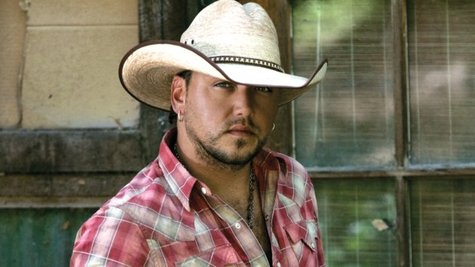 Jason Aldean was one of several artists bringing country music to New York City Tuesday night, at an "All for the Hall" concert benefiting the Country Music Hall of Fame and Museum. And Jason says he thinks supporting the Hall of Fame is an important responsibility for every country artist on the charts today.
"I think it's almost your duty as a country music artist to educate people on the background of country music and why we're here," Jason told ABC News Radio at the event at the Best Buy Theater in New York's Times Square. "The people that are enshrined in that building are the ones that kinda paved the way for us to be here, and get to do what we do right now."
He added, "I think it's important for us as artists that are out right now to make sure the people don't forget that." Jason will also perform at a similar event in Nashville April 16, along with Eric Church , Tim McGraw , Brantley Gilbert and Willie Nelson , among others.
Asked to name the coolest piece of memorabilia he's ever seen at the Country Music Hall of Fame and Museum, Jason laughed, "My outfit! That was the coolest thing I've ever seen. Are you kidding me? Something of mine in there? That was awesome!"
Also on the bill were Vince Gill, president of the Museum board, who created the All for the Hall fundraising campaign; plus Emmylou Harris , Rodney Crowell , Ashley Monroe of Pistol Annies , Train lead singer Pat Monahan , and Allman Brothers Band legends Gregg Allman and Warren Haynes .
Vince told ABC News Radio that he was pleased to have put together an eclectic lineup for the night. "Any time you get a chance to make new friends, that's so healthy," he said. "People that you may not know their music. I've not met Pat [Monahan], and I love his voice and so I get a chance to hang out with him." Vince noted that Rodney and Emmylou are, of course, "lifelong friends," while he's known Ashley "since she was 15 years old." As for Jason, Vince called him, "the hottest thing going in country music."
But Vince told ABC News Radio he was most excited about the prospect of jamming with the legendary Gregg Allman. "To get to hear Gregg Allman sing in person is the best of all," he said "You know, I was that kid in my room listening to the Allman Brothers records and learning how to play guitar and trying to emulate what I was hearing as a kid, so it's a big deal for me."
Copyright 2013 ABC News Radio