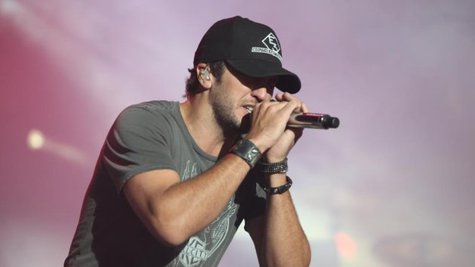 Luke Bryan knew he was ready to headline arenas on this year's Dirt Road Diaries tour, and it looks like the fans were ready for him too. Luke sold out all 21 shows on the first leg of the trek before he ever stepped on stage last month. That kind of turnout is something Luke has dreamed of ever since moving to Nashville.
"It's like an inner peace that I've been searching for as an artist to roll into town, and it's like, you know it's sold out," Luke says. "There's no better feeling."
With his opening acts Florida Georgia Line and Thompson Square warming up the crowd, Luke feels his tour has a great overall vibe for the fans.
He says, "It's just a fun three hours for fans, and I never would have imagined they would be selling out this quick."
Luke is scheduled to continue the Dirt Road Diaries tour well into the fall, but he's actually looking forward to singing his songs night after night for the fans. Unlike some stars who grow to hate their biggest hits, Luke says, "Every time I look on my set list and see what song I have next, I'm like, 'Ooh, ooh. This is gonna be fun.' And that's such a blessing for me."
Luke's hard work on the road has paid off with an Entertainer of the Year nomination at the 48th Annual ACM Awards. He's also set to co-host the show with Blake Shelton Sunday, April 7 broadcasting live on CBS from Las Vegas.
Copyright 2013 ABC News Radio