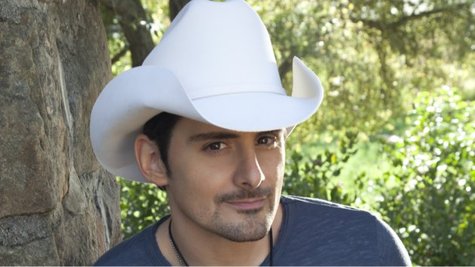 Brad Paisley 's new album, Wheelhouse , is due out April 9 featuring the hit single, "Southern Comfort Zone." That first single threw a curveball to country fans with the gospel choir and clips from The Andy Griffith Show peppering the track. Brad has a few more surprises in store for fans on Wheelhouse , including a collaboration with rapper-turned actor LL Cool J . Brad had met LL before, but he got a mutual friend to hook them up in the studio for this project.

Brad says of LL Cool J, "He's a great songwriter, and more importantly, he's a great human being. He's a really nice man, and he is a class act. And I am lucky to associate with him at all."
Brad also tapped Charlie Daniels for a guest appearance on Wheelhouse in a way fans won't expect. All of this experimentation is an effort on Brad's part to test the limits of country music.
"The stuff is really meant to say things that I didn't think you could say," Brad says of his new material. He points out that in other genres, like rap, artists can't really shock their listeners because the fans have heard it all before.

Says Brad, "I'm a little envious of that. In country music, there's quite a few boundaries, and I think there should be boundaries, but I also wonder what those are. And that's what I set out to explore with this."
Copyright 2013 ABC News Radio