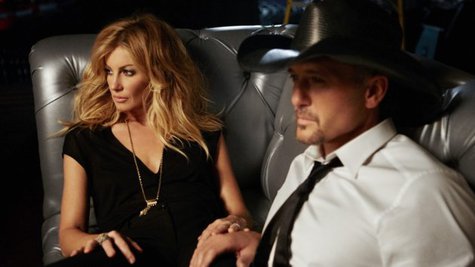 Tim McGraw and Faith Hill are teaming up to help salute Bruce Springsteen as the Recording Academy's MusiCares Person of the Year at a star-studded gala tonight in Los Angeles. The couple, who will duet on Bruce's song "Tougher than the Rest," has gotten to know The Boss personally in the past few years, and they still look up to him as a true music icon.
"He's one of those guys that there's only been a handful of throughout the history of music," Tim tells ABC News Radio, adding, "The great thing about music and what Bruce is able to do is it describes situations and describes feelings and emotions that you didn't realize that you had or you didn't know how to voice those opinions or voice those emotions."
Tim goes on to describe Bruce as a "great," "solid" guy saying, "His image is one of those of a guy who just sort of knows how to walk the road with everybody, and he really is that kind of guy."
In addition to Tim and Faith, Kenny Chesney , Zac Brown and Natalie Maines of The Dixie Chicks are also paying tribute to Bruce at tonight's event. The Daily Show 's Jon Stewart , a huge fan of The Boss, will host the event, which takes place two days before the 55th Grammy Awards ceremony.
Proceeds from the MusiCares gala, which celebrates not only Springsteen's artistic achievements but also his charity work, will go to help musicians and those in the music industry who need financial, medical or personal help.
Copyright 2013 ABC News Radio