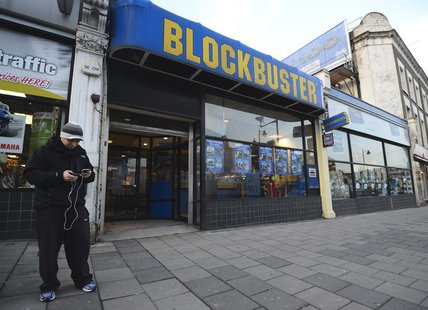 LONDON (Reuters) - British film and computer games rental chain Blockbuster is to close down completely after administrators said they had failed to secure a buyer for the firm.
Private equity firm Gordon Brothers Europe, which purchased Blockbuster for an undisclosed sum in March, put it into administration on November 11 when it was trading from 264 stores, employing 2,000.
Administrator Moorfields Corporate Recovery has been closing stores and laying off staff since and said on Thursday the remaining 91 stores would now close by December 16, with the loss of 808 jobs.
"Unfortunately, we were unable to secure a buyer for the group as a going concern and as a result had to take the regrettable action to close the remaining stores," joint administrators Simon Thomas and Nick O'Reilly said.
Many British retailers are still finding the going tough despite signs of economic recovery as inflation continues to outpace wage rises and competition from the Internet intensifies.
(Reporting by Neil Maidment; editing by James Davey)