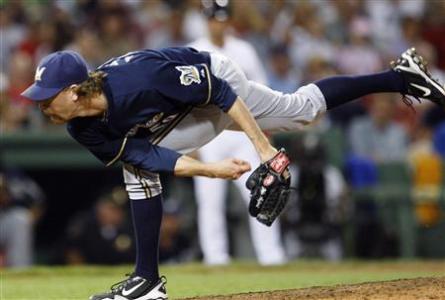 MILWAUKEE (WTAQ) - The Milwaukee Brewers traded reliever John Axford to the St. Louis Cardinals Friday morning for a player to be named later.
The move was made just a day before the August 31st deadline for trading players who clear waivers and can be eligible for the post-season. The Cardinals lead the National League Central Division by a game over Pittsburgh – and those two teams are about to open a crucial three-game series Friday night.
The St. Louis Post-Dispatch said Axford was due back at Pittsburgh in time for Friday night's contest. He had just left Pittsburgh with his former Brewer teammates Thursday evening, after the Crew took 2 of 3 from the Pirates.
While it seemingly makes sense for the 30-year-old Axford to be headed to a contender, some will certain question sending a player to one of Milwaukee's top divisional rivals.
Axford began the season as the Brewers' closer, but he lost that role after a slow start. He failed to get a save with the Crew this year, as he built up a 6-7 record in 62 relief appearances with a 4.45 ERA.
Two years ago, Axford set a Brewers' record with 46 saves – and he was the winning pitcher in the deciding Game 5 of the 2011 National League Division Series against Arizona.
In a statement, Brewers' GM Doug Melvin said, "John has been a big contributor to the Brewers, and we do not go to the playoffs in 2011 without his outstanding performance."
The Brewers recalled right-hander Alfredo Figaro from AAA to take Axford's roster spot. Figaro is 2-3 for the Crew this year