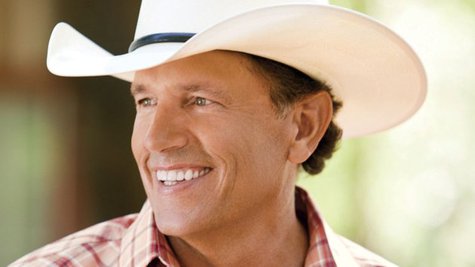 George Strait may be saying goodbye to life on the road with his final tour wrapping up next year, but fans can look forward to a lot more music from the country legend. George has agreed to record five new albums as part of his extended deal with longtime label, MCA Records. The announcement was made at a gala Wednesday night in Nashville toasting George's recent 60th #1 hit, "Give It All We Got Tonight."
The invitation-only event featured a special performance from Strait, including "Troubadour," "Amarillo by Morning" and "The Chair." George also welcomed a local children's choir to help him out on his latest single, "I Believe." Before he started his set, George got in a little dig at rocker Tom Petty , who recently told Rolling Stone that modern country music was nothing but "bad rock with a fiddle." Strait simply said of Petty, "I've never been a big fan of his."
The evening also included a few star-studded shout outs to Strait, including pre-taped messages from Merle Haggard , Carrie Underwood , George Strait , Dierks Bentley , Lady Antebellum and Miranda Lambert among others. Former President George H.W. Bush even sent a letter that was read at the gala in Strait's honor.
Partygoers picked up a CD package on the way out that included George's 1981 debut album, Strait Country , as well as his current project, Love Is Everything .
Copyright 2013 ABC News Radio