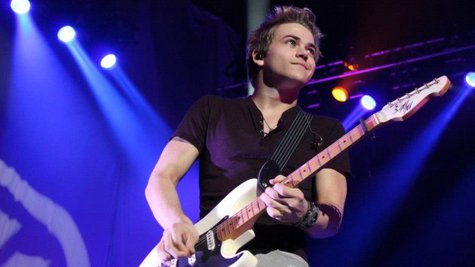 Hunter Hayes is adjusting to life on his own since moving into his own place in Nashville last December. He's not there much due to his crazy tour schedule, but the 21-year-old country star has enjoyed a few low key nights at his new pad.
"It's been fun getting to vibe it out and just kind of chill," Hunter says. "Just picking up a guitar and just playing. Writing a little bit, you know, not trying too hard. Just playing and jamming."
These chilled out nights at home are part of Hunter's overall goal to learn how to relax.
He explains, "I'm naturally high-energy and all about music all the time. I have to force myself to walk away every now and then."
Hunter's breaks from writing, recording and performing only last a few days at a time though. Hunter's now preparing to take his music to Japan for a few performances later this month before launching his Let's Be Crazy tour in October. This hectic pace is just fine for Hunter, though.
"Everything that's happening right now is fun," Hunter adds. "I thought there would be a sort of stage of extreme stress, and I mean, yeah, there's stress. There's all that stuff, but it is so much more fun than I thought it would be."
To keep up with Hunter's crazy schedule, go to HunterHayes.com .
Copyright 2013 ABC News Radio