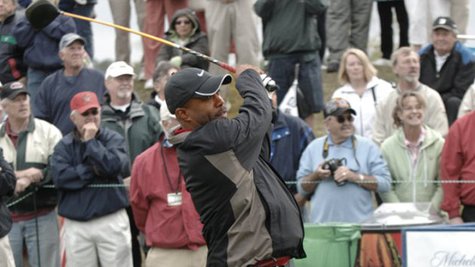 Darius Rucker has been a friend of Tiger Woods ' for years now thanks to their shared love of golf, and Darius is proud his pal is back towards the top of the pack at this weekend's Masters in Augusta, GA. Tiger's career suffered following his very public divorce a few years back, but Darius knew that slump wouldn't last forever.
"I always knew he was going to come back," Darius says. "I always knew as soon as he got his life in order, as soon as he got happy, as soon as he got where he wanted to be, he was going to be the number one golfer in the world again, because talent wise, he's still the most talented guy out there."
Tiger's comeback is sweet for Darius, since he took Tiger's very public divorce and cheating scandal very personally.
Says Darius, "People acting like he's the only guy in the world that's ever done anything like that, you know, or he's the only guy on the PGA tour doing something like that, was tough, and to watch him take that fall as a friend was tough."
Darius fully expects Tiger to win one of golf's major tournaments this year, and he says, "I'm just so happy to see him play. When he wins a major this year, I might cry. I'm just gonna be so happy for him."
The 2013 Masters continues through Sunday, April 14.
Copyright 2013 ABC News Radio