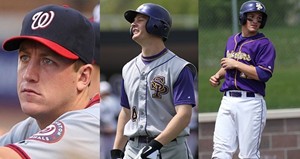 STEVENS POINT, WI. (UWSP) – As the UW-Stevens Point baseball team prepares to open its 2013 Wisconsin Intercollegiate Athletic Conference schedule at UW-Whitewater Friday, three former Pointers gear up for professional ball this spring.
Washington Nationals starting pitcher Jordan Zimmerman makes his 2013 debut Thursday against the Miami Marlins. After being selected in the second round of the Major League Baseball (MLB) draft out of UWSP in 2007, Zimmerman has made 81 starts through his first four seasons with the Nationals.During that span, Zimmerman has posted a 3.47 ERA and an impressive 3.5 strikeout-to-walk ratio.Zimmerman finished the 2012 season with a career-best 2.94 ERA and 12 wins to help lead Washington to its first National League East Division title.
"Expectations for both Jordan and the Nats are very high this year," said UWSP Head Coach Pat Bloom, who served as Zimmerman's collegiate coach. "Many are predicting the Nats to contend for a World Series birth, and I know that Jordan is excited to be a part of a championship-caliber ballclub."
Through his Major League success, Zimmerman has kept a hold of his UWSP roots."Jordan was in the Multi-Activity Center a lot this past offseason, so our players as well as our campers got a glimpse of what a Major Leaguer does to get ready for the season," said Bloom. "As his former coach, I can't tell you how much I appreciate the fact that he has stayed connected to our program and that he still has a presence around campus."
Former UWSP outfielder Cody Koback, selected in the tenth round of the 2011 MLB draft by the Boston Red Sox, will open the 2013 season with Single-A Greenville of the South Atlantic League.
Koback played the entire 2012 season with the Greenville Drive and finished fifth on the team in steals with 19.
"Now that Cody has a full season of professional baseball under his belt, I know that he is both mentally and physically ready to showcase his skills at a level that will help him to continually move forward in the Red Sox organization," said Bloom."If his bat comes around a little more this year, I think that he has a great chance of advancing up in their farm system," Bloom continued. " A player named Jackie Bradley was in Cody's draft class and is already up in the big leagues, so it shows the Red Sox willingness to advance their young players.
"Former UWSP infielder Justin Jirschele, who signed a free-agent contract with the Chicago White Sox in June 2012 and played with the Great Falls Voyagers of the Rookie Pioneer League, will open the 2013 season in extended spring training in Arizona.In his first season with the Voyagers, Jirschele hit .267 in 164 at-bats. Jirschele showed a sharp eye by drawing 20 walks and striking out only 21 times during the 2012 season."
Justin's defensive versatility, his knowledge of the game, and his competitiveness will continue to bode well for him in professional baseball," said Bloom. "With improved conditioning and some adjustments to his swing, I would expect that he will prove himself to be a valuable player wherever he winds up in the White Sox chain."
Jirschele showcased his versatility by playing second base, third base and shortstop for the Voyagers in 2012."To have three guys playing professional baseball right now quite a feather in our cap as a Division III program," said Bloom. "I am very proud of what Jordan, Cody, and Justin have accomplished and what they will continue to represent for their clubs as former Pointers. They all continue to have a significant impact on our program, and we wish them the best for a successful 2013 season."