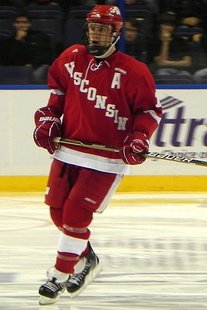 MANKATO, MN (WTAQ) - Two goals in the first period by senior Brianna Decker got the Wisconsin women's hockey team off to a strong start Saturday at Mankato, Minnesota.
But, it was three freshmen working together who scored the winner in a 3-2 victory over Minnesota State.
Video review negated two other possible Badger scores.
Decker's pair of goals had the Badgers up 2-1 going into the final frame. Freshmen Erika Sowchuk, Molly Doner and Kim Drake worked together around the net, with Drake pushing what would be the eventual winner across.
Wisconsin outshot Minnesota State 39-18 and emerged with a record of 1-0-1. UW travels to Lindenwood for two games next weekend.