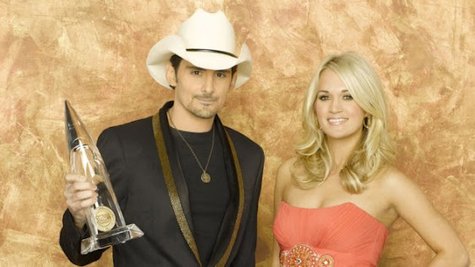 Carrie Underwood and Brad Paisley host the CMA Awards again next week for a fifth time, but that doesn't mean they just show up and wing it. In fact, they've been meeting since August planning what they'll say and who they'll poke fun at during their monologue.
Carrie says, "We start thinking about artists and who's had a big year, and who's been doing what. Yeah, I mean, we definitely both keep our eyes and ears open to see what's happening."
Carrie's constantly on the lookout for good material, and she's in constant contact with Brad about ideas.
"He's probably annoyed with me by now to be honest 'cause I've been texting him," Carrie says. "I mean, as soon as something pops into my head, I'm like, I have to text him now before I forget, so somebody else has it in their brain too."
Though they like to roast their fellow country stars a little bit on the CMAs, Carrie and Brad stop short of being mean or saying things in poor taste.
Carrie explains, "We don't want to offend anybody. It's just more of us doing what we love to do and getting better at it."
Carrie and Brad are both slated to perform on the CMA Awards as part of a lineup including Kenny Chesney , Taylor Swift , Zac Brown Band , Jason Aldean , Miranda Lambert , Little Big Town and more. The 46th Annual CMA Awards broadcast live from Nashville Thursday, November 1 at 8 p.m. ET on ABC.