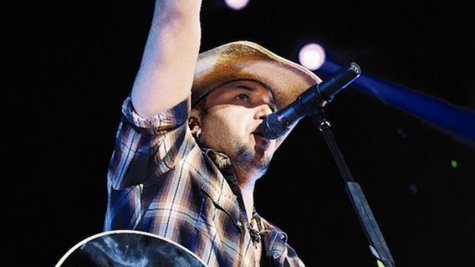 Jason Aldean 's Night Train is now in stores, and it's pretty much a lock to grab the #1 spot on Billboard 's Country Albums chart next week. Night Train could also bow atop the overall Billboard 200 chart, but Jason will probably be spending just one week in the pole position. Taylor Swift 's new album, Red , comes out Monday, and you can bet it will shoot to the top of the charts fast.
Jason is OK with getting his week at #1 before Taylor takes over. He says, "The thing you don't want to happen is your record to come out the same day as somebody like that."
Jason isn't upset about Taylor stealing his thunder on the chart. In fact, he thinks Taylor's big sales will actually drive them to the store or online to pick up Night Train too.
"I think that you kind of piggyback sometimes in situations like that," he says.
Jason and Taylor's albums are just two of the many superstar releases hitting stores in the months leading up to Christmas. Jason explains, "Everybody wants to put records out hoping that everybody's gonna go buy 'em as a stocking stuffer or whatever."
Jason may be offering something else for his fans to purchase this holiday season. Look for a big announcement from him Thursday.
Copyright 2012 ABC News Radio