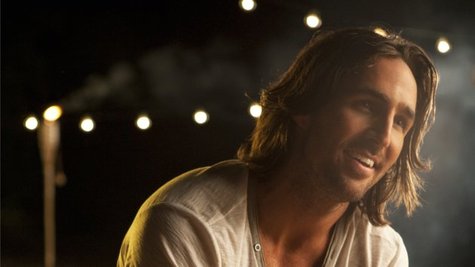 Jake Owen launches his CMT on Tour: The Summer Never Ends trek Wednesday night with a sold out show in New York City. Though temperatures are dropping across the country, Jake plans to heat things this fall up with a little help from Love and Theft and Florida Georgia Line opening his shows. Jake hails from Vero Beach, FL, and both of his supporting acts have members from the Sunshine State too.
"We have a lot of Florida runnin' through this tour, which is gonna be really cool," Jake says.
Jake feels ready to take the reins on his own headlining tour after spending the summer watching Kenny Chesney and Tim McGraw on the Brothers of the Sun tour. While serving as their opening act, Jake paid close attention to how those guys handled their business on and off stage.
He says, "I took a lot of what I learned, and I'm implementing it into what this tour is going to be and how I can better myself and better the show and what it's gonna look like and what aspects of our band I can make better and how I can treat my fans better."
Love and Theft is in the coveted opening spot right before Jake hits the stage, and the duo's Eric Gunderson and Stephen Barker Liles are thrilled to have 45 minutes on stage this time around.
"That's gonna be fun," Eric says. "We've got a good little stage production and stuff that we're gonna have this fall."
Love and Theft will also be promoting their new single, "Runnin' Out of Air," on the road this fall. Look for them to appear on CBS This Morning Wednesday too.
Of note, Jake's The Summer Never Ends tour will take a little hiatus between November 10 and November 29. Jake and his wife Lacey are expected to welcome their first child, a daughter, during that break.
Copyright 2012 ABC News Radio