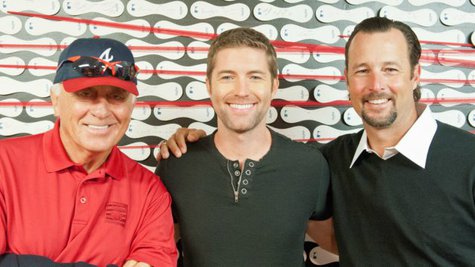 Josh Turner is a huge Atlanta Braves fan, so it was a big thrill when he got to meet famed Braves pitcher Phil Niekro recently.
Josh was visiting the MLB's Fan Cave in New York City while promoting his new Cracker Barrel album, Josh Turner -- Live Across America , when he ran into the Baseball Hall of Fame member, known for his knuckleball pitches. Phil's fellow knuckleballer Tim Wakefield , who recently retired from the Boston Red Sox, was also there at the Fan Cave, and the two athletes posed for a picture with Josh.
Wakefield and Niekro were at the Fan Cave promoting their new film, which is appropriately titled Knuckleball .
Copyright 2012 ABC News Radio