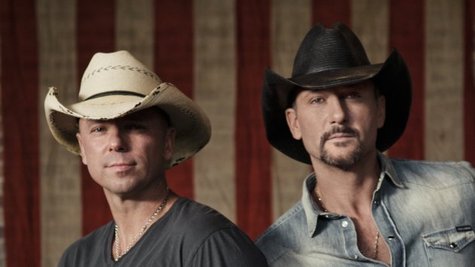 Kenny Chesney will be moving on to another big tour in 2013, but he's keeping the memories from his 2012 Brothers of the Sun tour with his good friend Tim McGraw . The two won Musical Event of the Year for "Feel Like a Rock Star" at last week's CMA Awards, and took some time to reflect on their big summer outing.
Says Kenny, "To be able to go out on the road with one of your buddies, a guy that you learned a lot in the business with, it was just special."
Kenny adds that singing "Feels Like a Rock Star" and a few other hits with Tim on stage every night was a real treat for both the artists and the fans.
"You know, that's something that doesn't happen every day in this business, and we were very excited to do it," Kenny explains. "It was just icing on the cake really."
Another sign of Tim and Kenny's long-term friendship is Tim's willingness to poke a little fun at his pal. The revealing video of Kenny's hit "Come Over" played on stage while he sang the song every night. Tim joked that was his favorite part of the tour saying, "For me, it was seeing Kenny naked in those videos during the show."
Kenny shot back with a laugh, "That's why I had to run all the time."
Tim and Kenny's Brothers of the Sun trek is up for the Top Tour Package award at the 2012 Billboard Touring Awards Thursday night in New York City. Look for Tim to launch his run of Soul II Soul shows with wife Faith Hill at the Venetian in Las Vegas next month.
Copyright 2012 ABC News Radio