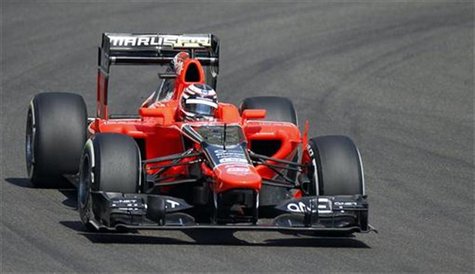 By Alan Baldwin
ABU DHABI (Reuters) - Max Chilton will have to wait until the end of the season before finding out whether he can secure a Formula One race seat with Marussia and become Britain's fourth driver on the starting grid.
The 21-year-old took part in his first practice session at the Abu Dhabi Grand Prix on Friday and impressed the team, who have made clear that their second driver will have to bring financial backing.
"Perfect job," team principal John Booth told Reuters at the Yas Marina circuit.
"We gave him quite a bit to do in the early part of the session, some engine work and aero work - vital information for the team for the rest of the weekend. He carried it out spot on."
There is a widespread assumption in the paddock that Chilton will get the Marussia drive if well-funded Frenchman Charles Pic goes elsewhere.
Booth said no decision had been taken so far, however, and was unlikely until at least the final race in Brazil at the end of November.
"We are certainly nowhere near making that decision yet," he said. "I hope Max will stay with us in one form or another, he's part of our family now. We'll see how things progress over the next month.
"There are commercial implications on almost every driver decision now outside the top four teams... the negotiations are only just under way so it may take a month yet. Round about Brazil would be good."
Chilton, whose father has bankrolled his racing career so far, had no doubt he was ready and said he was working on securing the necessary backing.
"You don't want to be stepping up into F1 unless you feel ready as a driver," he told Reuters. "This year and maybe last year I've grown in so much confidence that I feel 100 percent ready and just want the opportunity.
"We obviously need to see what Charles is doing, if there is a spare seat. I think I needed to impress the team and I think that I have done that today. I was quick enough and did everything I wanted."
Chilton said he did not know how much financial backing Pic had behind him and was also uncertain what he could secure despite positive signs.
He played down reports that he had already nailed down enough to get the drive at the British-based team, and said his father had made clear he would not be paying.
"We are still working on some sponsors... we are trying to work with two sponsors. We are definitely talking but we haven't actually 100 percent done it."
(Reporting by Alan Baldwin, editing by Pritha Sarkar)