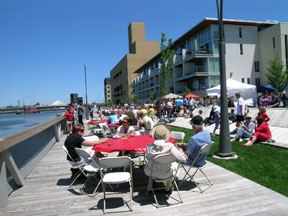 GREEN BAY, WI (WTAQ) - It's going to be a busy summer in downtown Green Bay.
City leaders announced Wednesday their rundown of events contained in their "Summer in the City" guide.
"People have been really waiting for this Summer in the City guide," says Downtown Green Bay Inc. Executive Director Jeff Mirkes. "They list over 120 event days in the next 120 days."
Annual events like the Fridays on the Fox, Dine on the Deck and Leicht at Night are returning. There will also be some new attractions like the Children's Museum Daddy Daze, Maestro Mondays and the Packers Heritage Trail.
The Waterboard Warriors performed at Wednesday's ceremony. They'll be returning on July 4th.
Green Bay Mayor Jim Schmitt says the annual events have helped lure businesses to the city's downtown.
"We did this for the entertainment, and for people to be connected to the waterfront. But we did this for economic development and I think that's the bigger story here that it truly is working," said Schmitt.
You can click here to view the "Summer in the City" guide. More information can also be found at www.downtowngreenbay.com