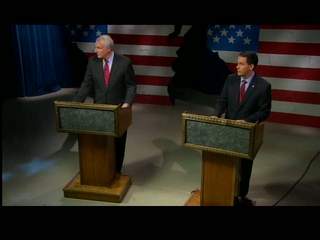 GREEN BAY, WI (WTAQ) - A recent survey of northeast Wisconsin business owners shows they're paying close attention to the gubernatorial recall election.
The Nicolet Bank Business Pulse quarterly survey found that 74 percent of NewNorth business owners and CEOs believe the outcome of the recall will have a significant or moderate impact on their business.
One in ten believe the June 5th recall election will have a slight impact, while 14 percent say it will have no impact at all.
"There's a sense I think among the business community that they might have been holding back on some of their investment decisions unless Governor Walker were re-elected," says St. Norbert College Dr. David G. Wegge, who conducted the survey. "If they know that he's re-elected, they may feel more comfortable taking those to steps to either increase employment or to increase their investment."
There is a difference between CEOs of goods producing companies compared with service-based companies. Manufacturers see the recall as having a greater impact (88% say significant or moderate) compared with 68 percent of CEOs in service-companies.
"Many of the service industries are impacted by government spending," says Wegge. "They are affected by social policies to a greater extent than manufacturers."
In an open-ended question, 91 percent of business owners say a win by Governor Scott Walker would have a positive impact on their business. Nine percent say it would have a negative impact.
According to the survey, one CEO said, "If Walker wins, we will have less uncertainty about taxes; more confidence in a better business environment; better fiscal management and a positive economic outlook."
Of the CEOs surveyed, if Milwaukee Mayor Tom Barrett were to win, 7 percent see positive economic impacts on their business. 93 percent believe it would have a negative impact on their business.
The survey quoted one CEO as saying, "If Barrett wins, it is possible (though not assured) that the message learned will be that arrogance and divisiveness are ill-suited for problem solving, and that the result will be reconciliation, with more collaboration from both sides. Such a climate of reconciliation and a renewed focus of problem solving would create opportunities for entrepreneurship and support the startup community."
You can view the full report here.